The power of the handwritten text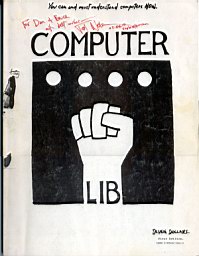 In the blog
Vu d'ici
(via
Journalisimo
) says "
Checking out Kurt Cobain's diary while out for lunch time ..., I thought that every single book on earth should be handwritten.
"
That reminds me of the classic book by personal computer visionary
Ted Nelson, Computer Lib/Dream Machines
. It is a large format book filled with typewrited text, handwritten references, notes and corrections. It has handdrawn diagrams, Xeroxed photos, comics and computer art. Reading it is like reading a scientific essay in the format of a fanzine. It is so filled with entusiastic information that the pages is barely large enough to hold it all. It was written in 1974 when IBM mainframes ruled and computers was seen as cold and impersonal. Ted Nelson described, among other things, hypertext what is now known as "World Wide Web".
I own a first edition copy of this book, and I have also read a Swedish translation. Let me tell you, reading this book translated without the handwritten text is like watching a TV-show without a picture. The original with the handwritten text is like actually sitting and watching Ted Nelson speak. You can see how entusiastic he is about the future with computers.
A couple of days ago I
checked the book with Amazon
, and I hadn't realized before how valuable my copy was. Prices started at $150! No, it is not for sale... 30 years later I still enjoy browsing through this book. Why isn't any book like this created any more?
Visit the
DigiBarn Computer Museum
for some more info regarding this amazing book.