Productivity points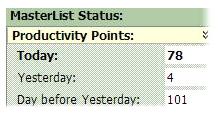 If you remember
my post
regarding
The Printable CEO
, you remember that this is a system that rewards you with points for completing different types of tasks.
I have just installed
MasterList Pro
that calculates "Productivity Points". Another way to pat yourself on the back.
Speaking of MLP, this is a GTD-centric task- and projectmanager:
MasterList Professional is a Windows desktop application for successfully managing your professional and personal projects and tasks. Unlike time management programs, it focuses on giving you oversight, control and dominance over all of the competing claims on your time and energy.
I will try out MLP and see what it can do for me.